Together we have made a difference!
Together we have made a difference!
June 24, 2021
Home »

Together we have made a difference!
CAT has spent many years researching and sharing zero carbon scenarios. Paul Allen looks back at some of the key milestones and successes from a pioneering project.
CAT began its initial Zero Carbon Britain research 15 years ago, at a time when relatively few people recognised that such radical reductions in greenhouse gas emissions would be needed to combat the growing threat of climate change.
The idea was initiated in conversations mapping out the wide range of environmental challenges faced by humanity, classifying these in terms of whether they gradually increase or whether they feedback and get worse very quickly. It became clear to us that climate breakdown was one of the most serious problems, which led to a coming together of CAT staff and students from our Graduate School to explore solutions.
The idea for the Zero Carbon Britain project was inspired by the very first 'Alternative Energy Strategy for the UK', published by CAT in 1977. At a time when UK energy strategy was based on North Sea oil and the promise of nuclear power, this first ahead-of-the-curve report offered a radical alternative based on five years of testing and developing new technologies and practical solutions at the centre.
So, to kick off Zero Carbon Britain, CAT pulled together a new research team and some of the original 'Alternative Energy Strategy' authors to begin to map out solutions.
Evidence-led ambition
In 2007, after several months of detailed work including a wide range of expert consultations, the first Zero Carbon Britain report was published, aimed at informing the national energy debate.
At that time the UK Government target of 60% reduction of emissions by 2050 was well ahead of its global peers, but still fell far short of what is now known to be needed. This was clearly outlined in the foreword to our 2007 report, penned by Sir John Houghton, Former Co-Chair of the Intergovernmental Panel on Climate Change (IPCC) and Former Director General of the UK Meteorological Office:
"The authors of Zero Carbon Britain present a timescale for action that begins now. I commend their imagination (coupled with realism), their integrated view and their sense of urgency, as an inspiration to all who are grappling with the challenge that climate change is bringing to our world."
The climate science was clear, humanity had to be more ambitious, so we had begun to map out what, at that time, was unthinkable, simply because the evidence compelled us to do so.
This initial report introduced the dual parallel processes of powering down demand, by using an efficient approach to delivering society's goals, whilst also powering up clean energy in buildings, industry, transport, diets and land-use.
Back in 2007, electric vehicles were in their infancy, so the idea of a mass switch was not yet visible, but we knew it was possible. Similarly, solar and wind were still small-scale and not yet cost-competitive, but we could see things were changing.
Communicating to influence
To ensure this work had maximum impact, we placed as much emphasis on communications as we did on detailed research – this was not going to be a report that sat on a dusty shelf.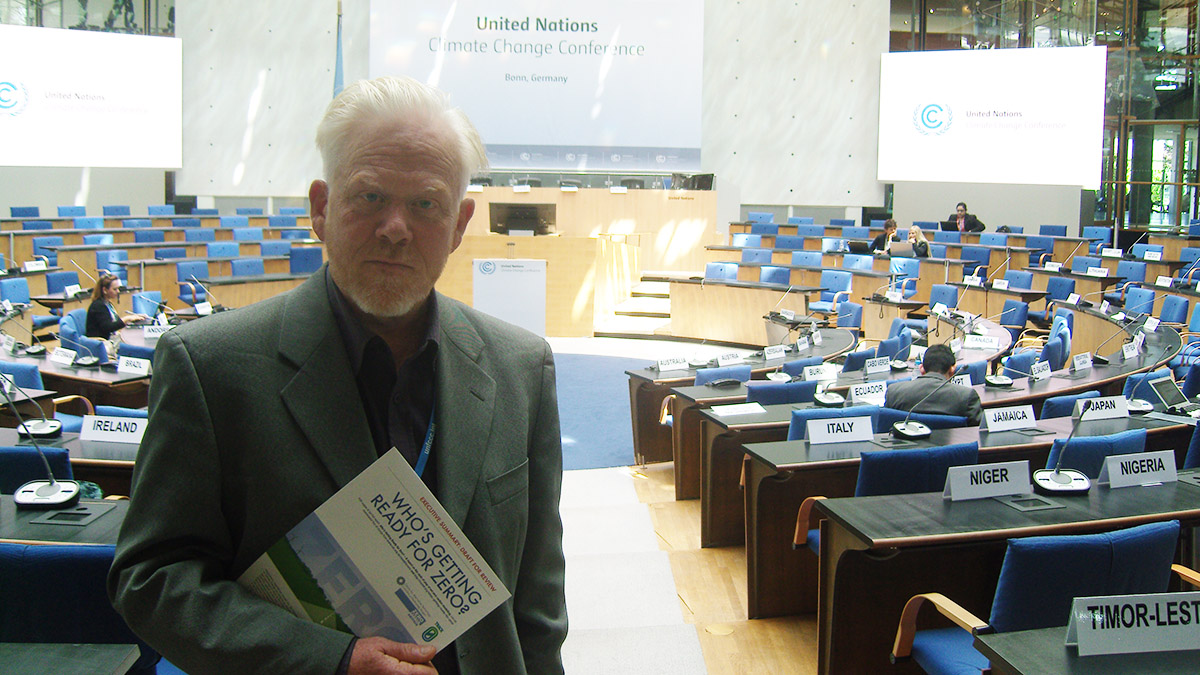 Despite it being well ahead of the curve, or perhaps because of it, this initial report gained an amazing amount of traction. We were invited by the All Party Parliamentary Climate Change Group to launch this first report in Westminster, drawing a packed room and opening many new conversations.
Shortly after the report's release, the Liberal Democrats launched their energy policy: 'Zero Carbon Britain – Taking a Global Lead'. For the first time, a major UK political party had adopted a zero carbon policy!
The then Liberal Democrat Shadow Secretary of State for Business and Enterprise thanked us, saying: "These proposals were largely inspired by the Welsh-based Centre for Alternative Technology and I would like to thank them for the ground-breaking work."
Then in 2008, the UK's Climate Change Act was a world-leading piece of legislation and the result of a wide range of groups working together as part of the Stop Climate Chaos Coalition.
Fifteen years of zero carbon solutions
Over the following decade, as well as presenting at the UN COP climate summits in Poznan, Copenhagen, Paris, Marrakech and Madrid, key presentations have included UK, Welsh and Scottish Governments, a great many local authorities and councils, active citizen groups, Local Enterprise Partnerships, Wildlife Trusts and church groups. We have also been invited to play key roles within bodies such as the Climate Change Commission for Wales and the Science Advisory Council for Wales.
In 2009 the Smithsonian Institution invited us to run a 'Convergence on Zero' in Washington, one of the very first net zero events in the USA, followed in 2013 by securing Winston Churchill Memorial Trust funding to explore and share rapid decarbonisation research across America.
The Zero Carbon Britain team have also recognised the key role of arts and culture in bringing change to life, presenting to key players including National Theatre, Royal Opera House and Donmar Warehouse, and working with Arts Council Wales to host an artist-in-residence.
Over the past 15 years CAT's research has reached and supported many thousands of people, and we are proud to have helped catalyse area-based projects such as Zero Carbon Shropshire, Dorset, Cumbria, Liverpool and Yorkshire.
Policies and actions at many levels are getting more ambitious, but there is still much to do as we enter a new ambitious phase for this pioneering project.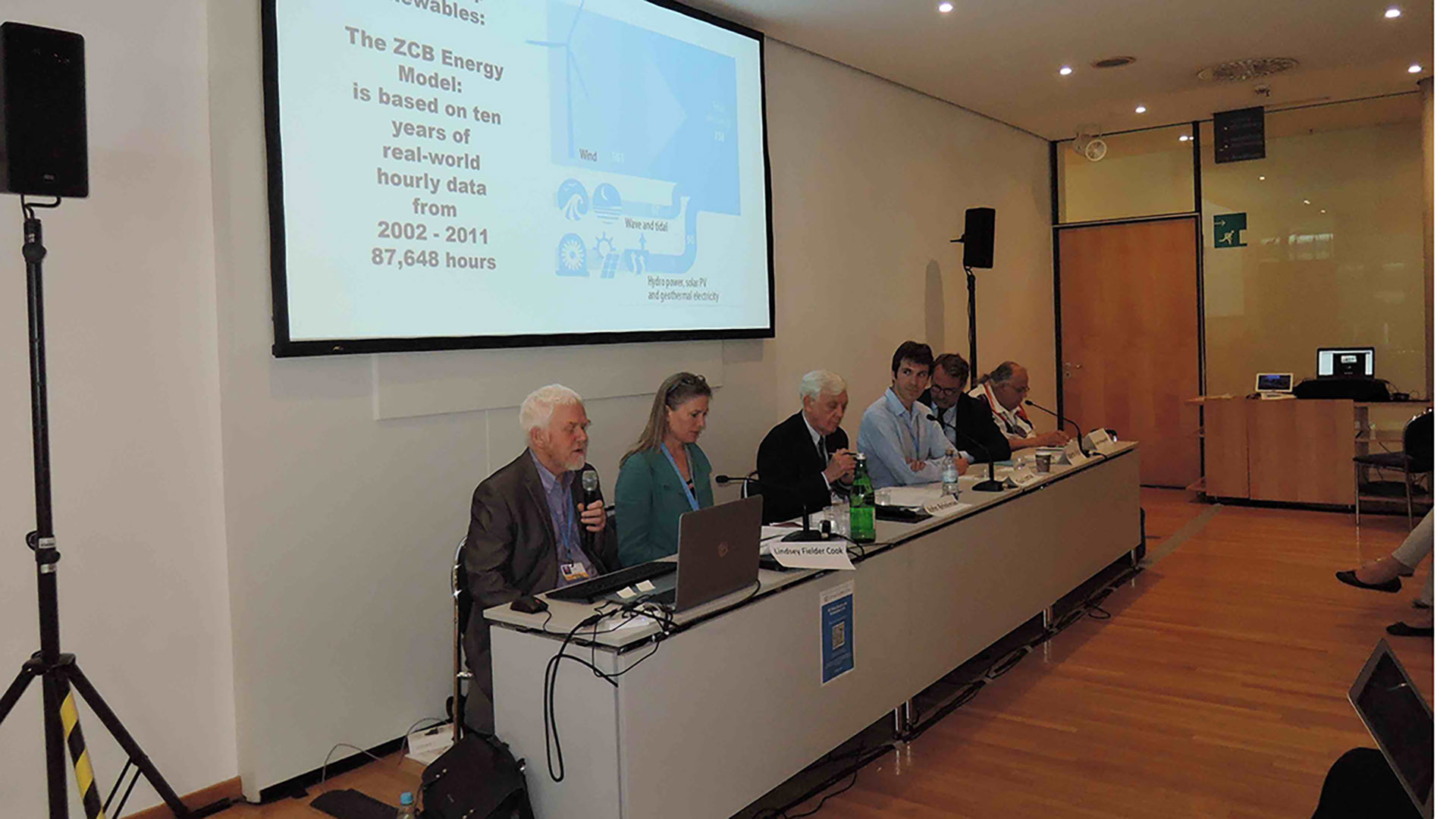 The Zero Carbon Britain project timeline
1977 – CAT publishes the inspiration for the project, 'An Alternative Energy Strategy for the UK', presenting copies to Tony Benn's Ministry of Energy.
2006 – Conversations between CAT staff and students explore the major environmental challenges of the 21st century, and the Zero Carbon Britain project is born.
2007 – CAT's first Zero Carbon Britain report published, exploring how we can power down energy demand and scale up renewable energy production. The report is launched with the All Party Parliamentary Climate Change Group in Westminster.
2010 – 'Zero Carbon Britain 2030' published. This report increased our exploration of major changes in the food, agriculture and land-use systems in order to provide the required negative emissions, and offered more detail on policy and economics.
Catherine Martin, Co-ordinator of the All Party Parliamentary Climate Change Group, 2008-2011, said: "Zero Carbon Britain has allowed us to open up crucial conversations with government, Parliament, and the business world about Britain's energy future."
2013 – 'Zero Carbon Britain Rethinking the Future' report delves into the detail on managing variability in supply and demand of a 100% renewable energy system, and on balancing our land use to provide a healthy diet.
Joan Walley, former MP and Chair of the All Party Parliamentary Climate Change Group said: "Zero Carbon Britain shows that the solutions to our problems do exist… Not only is this essential for a sustainable future but vital for our sense of wellbeing."
2014 – 'People, Plate and Planet' published, detailing the impact of various dietary choices on health, emissions and the area of land required.
2015 – 'Who's Getting Ready for Zero?' In the run-up to the UN Paris negotiations CAT assembled a team to produce an overview of international scenarios.
It collected and highlighted the work of hundreds of people around the world who have developed visions of possible futures. We were excited to be asked to share it in a side-event at the Paris climate negotiations.
2017 – 'Zero Carbon Britain: Making it Happen'. This report explored how we can overcome barriers in innovative ways, bringing together thinking from psychology, sociology, political science and economics, as well as faith and spiritual practice, arts and culture.
2018 – 'Raising Ambition'. This update of the 2015 international report brought together a range of scenarios exploring climate-stable futures at global, regional, national and sub-national scales.
2019 – 'Rising to the Climate Emergency'. As awareness of the emergency increased, this report incorporated the very latest developments in science and technology, aiming to stimulate debate and catalyse action across all areas of society.
2020 – CAT's new Zero Carbon Britain Hub and Innovation Lab launched, thanks to a generous donation from the Moondance Foundation. You can read about this new phase of the project on pages 19-25.
This work has been supported by an amazing group of charitable trusts and foundations over the years, as well as by our incredible members and supporters. We've also benefited from the time and expertise of a huge number of people.
A huge thank you to everyone involved – this work would have been impossible without you.
Together, we have made a difference!
About the author
Paul is CAT's Zero Carbon Britain Knowledge and Outreach Coordinator. He has been involved with our research into net zero scenarios since the beginning, coordinating the development of research reports and liaising directly with government, industry, NGOs and the arts to share findings.
Related events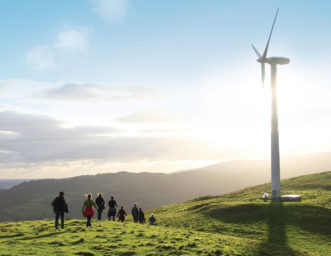 More events
Email sign up
Keep up to date with all the latest activities, events and online resources by signing up to our emails and following us on social media. And if you'd like to get involved and support our work, we'd love to welcome you as a CAT member.