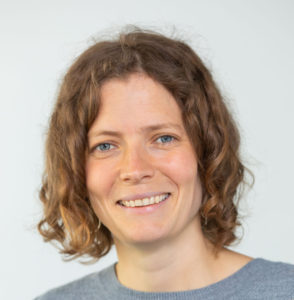 Jenny Howard Coles
2013 CAT Graduate
Jenny works as a Senior Development Manager at the Centre for Sustainable Energy (CSE) in Bristol. Before studying at CAT she worked as a freelance events manager.
A graduate of CAT's old MSc. Architecture, Environmental and Energy Studies Jenny graduated from CAT in 2013. Jenny now works as a Senior Development Manager at the Centre for Sustainable Energy (CSE) in Bristol. Her role is to develop new projects and income streams for the charity and works across the organisation developing projects to be delivered by their advice, research and communities teams.
Jenny worked as a freelance events manager before studying at CAT and as her events work became increasingly focused on environmental issues she decided to apply to CAT to gain more knowledge and grounding in sustainability topics like building, infrastructure and the way we live.
"I felt that the course would work really well for me, with intensive residential modules where I could get immersed in the learning. As a freelancer, I was able to work in between modules and took the course part-time which worked well for me. The course at CAT was an absolute game-changer. It shifted my career up a few gears and gave me the solid grounding in the knowledge that I needed.

I also found that I did well in some of the more technical modules which I had imagined I would struggle with – so it was a real lesson in being open to developing skills in areas you had previously assumed would not be for you. I often say this when I'm talking to young people – just because you're not good at maths at school – doesn't mean you won't thrive in a technical role later in your life!"
Before joining CSE, Jenny worked for Plymouth City Council in their Low Carbon City Team. As a team, they launched Plymouth Energy Community, a high profile community energy organisation developing community-owned solar as well as fuel poverty support and a range of other related programmes. Jenny's thesis was written on the then brand new neighbourhood planning policy for England and how it could relate to community energy. Her knowledge and thesis research played a key role in being selected for the role at Plymouth City Council.
Jenny has also developed projects which tackle climate change at the same time as challenging the way our economy and energy systems work. By collaborating with a variety of different organisations, including local authorities, housing providers, and other environmental charities, these projects have helped make a real difference.
One of the projects she is currently involved in is Bright Green Future, an environmental leadership programme for Black, Asian and minority ethnic young people. The students give her a lot of hope for the future – and sometimes she gets to join their annual summer school back at CAT!