Karen Ridgewell – Distance Learning Graduate Profile
Karen Ridgewell – Distance Learning Graduate Profile
April 16, 2020
Home »

Karen Ridgewell – Distance Learning Graduate Profile
Karen Ridgewell graduated from CAT's MSc in Sustainability and Adaptation Planning in 2018 after taking the majority of modules at a distance through our blended learning programme. Graduate School Marketing Officer Alis Rees caught up with her to find out about her experience of studying at CAT and what she's been doing since graduating.
Karen is now a Senior Design Officer in the Climate Change team at Architecture & Design Scotland. She has previously worked at Sustrans Scotland and is a board member of Creative Carbon Scotland.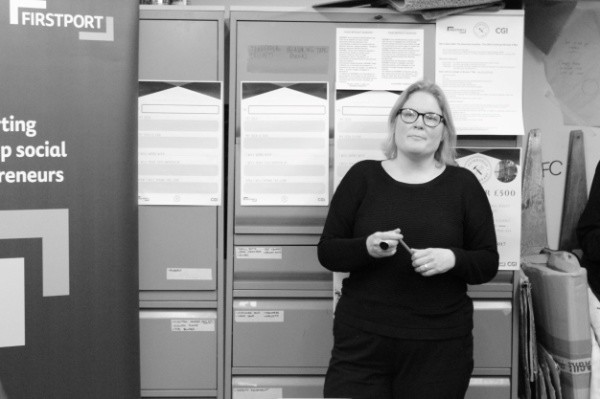 How did you find out about CAT and our postgraduate courses?
I had not been aware of CAT's existence until a chance meeting with a current student in 2011 and I have always lamented missing the opportunity to have carried out my Part II at CAT.
Since that time, I kept an eye on the programme development and when the opportunity arose, I applied for a distance learning course because it offered the flexibility I was looking for at the time. The Sustainability and Adaptation Planning course allowed me to apply my knowledge and experience to an in-depth subject matter that would benefit my own working practice, current and future employers.
What appealed to you about studying via distance and blended learning?
I chose to apply for the distance learning programme, part time (which meant that I could spread the modules across a minimum of a 2-year period) as it would allow me to continue working as the curriculum delivery was not necessarily tied to traditional 9 – 5 working hours. As lectures were recorded on site and timely uploaded to Moodle (UEL's virtual learning platform), I could access information at times that suited me, prior to pre-arranged online seminars with my fellow students and teaching staff to discuss our thoughts, reflections and queries.
I also chose the Masters course because the content is not readily available elsewhere and the freedom offered by CAT to utilise distance learning or a blended learning approach (some modules on site, some distance learning) is reflective of the open, collaborative and forward thinking approach of the institution. This freedom allowed me to maintain a healthy balance between study, work and caring for my young family.
You work as a Senior Design Officer at Architecture & Design Scotland, tell us a bit about them and your work there.
Architecture & Design Scotland (A&DS) were set up in 2005 by the Scottish Government as an executive Non-Department Public Body (NDPB) with the purpose of helping people create a well-designed built environment which supports sustainable, resilient communities.
I joined A&DS in June 2019 as a Senior Design Officer and have been contributing to a new pilot project called 'Place Planning for Decarbonisation' supporting the Scottish Government's commitment to tackle Climate Change and achieve the target of Net-Zero Carbon Emissions by 2045.
With numerous local authorities declaring a Climate Emergency, A&DS are aiding, through facilitation, to translate that driving force into tangible place plans, an approach we believe is unique, but one we wish to encourage others to adopt, and at pace. In a short space of time, we have successfully contributed to the discussion to prioritise climate change within the planning system through engagement with the Heads of Planning and throughout the extensive network of which A&DS is connected. We hope our pilot project findings can be used as a precedent to demonstrate the successes and challenges identified by each of our project partners, offering timely peer to peer support to local authorities and community groups across Scotland.
What are the next steps for the project?
We are planning to continue our pilot project for a further 12 months, this will allow us to work with more Local Authorities and to better evaluate the impact of our interventions. We will be assisting the Scottish Government with the consultation, development and delivery of National Planning Framework 4 (NPF4), contributing to the Just Transition and the Climate Change Plan consultations and updates and working with our colleagues to implement 'Creating Places' Scotland's Policy for Architecture and Place.
One final question, what impact has your studies at CAT had on your work and life?
I believe my CAT studies and qualification led to my successful appointment at Sustrans, A&DS and to the Board of Creative Carbon Scotland. The experience gained at CAT offered me an opportunity to enhance my existing qualifications and experience, to challenge the impact of my profession and work towards inciting positive change by utilising my multi-disciplinary knowledge and perspective. It has created employment and volunteering opportunities that I do not believe were previously available to me.
I thoroughly enjoyed my time at CAT over the last 4 years, my peers and the staff made me feel welcome and appreciated. Their open mind sets have encouraged us to questions and challenge and to work together towards solutions that can positively impact ourselves, our families, our communities, our workplaces and the environment. I would recommend visiting or studying at CAT to anyone.
Enews sign up
Learn more about the latest news, events and activities from CAT by signing up to our monthly email and following us on social media.