IndiNature receive £3m investment to open UK factory
IndiNature receive £3m investment to open UK factory
August 13, 2021
Home »

IndiNature receive £3m investment to open UK factory
CAT Graduate company IndiNature have received £3m in funding from the Scottish National Investment Bank to open the first dedicated natural insulation UK factory.  
Bio-based materials and construction company IndiNature, co-founded by CAT graduate Scott Simpson, have received backing from the Scottish National Investment Bank to open a dedicated natural insulation factory in the Scottish Borders.
Once local recruitment is complete, the factory will start manufacturing IndiNature's flexible hemp insulation batt 'IndiTherm' at high capacity, ready for launch in summer 2022.
IndiNature's vision is to transform the construction industry and existing damp and cold housing stock by providing a widely available safer, carbon negative solution to insulation for use in UK households and further afield.
As well as manufacturing a carbon negative product, IndiNature plan for the factory itself to be a showcase of sustainable systems, which Scott says CAT was useful in informing. They will use renewable technologies to power the factory and good design principles throughout.
IndiNature estimate that at full capacity, the factory will capture 10,500 tonnes of CO2 a year, which by 2050 will have the equivalent impact as planting 5 million trees.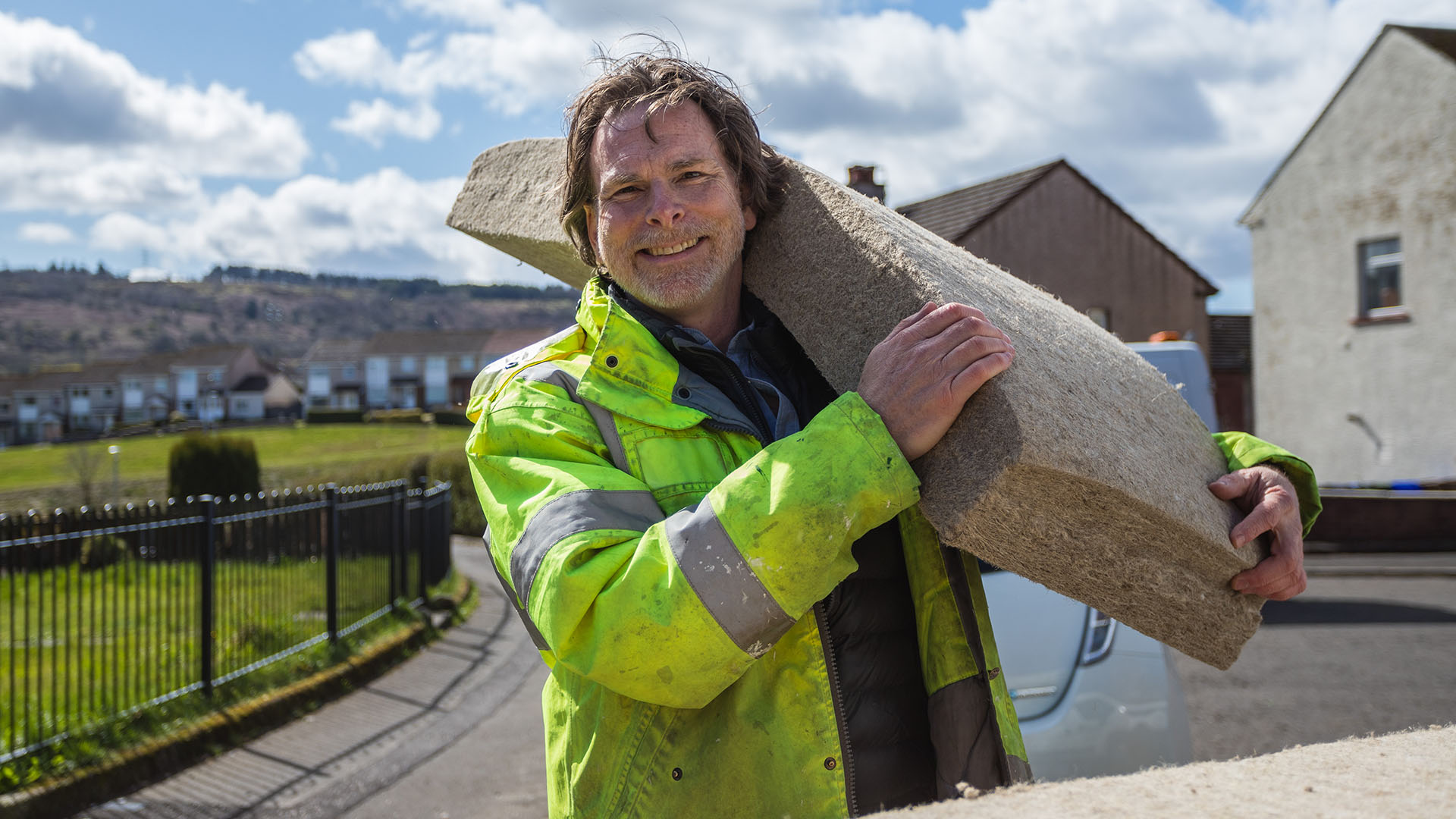 During his time at CAT, on one of our Graduate School of the Environment postgraduate courses, Scott was able to experiment with industrial hempcrete in the lab, gaining technical skills he says helped in choosing appropriate materials. IndiTherm is made from UK grown industrial hemp which captures carbon as it grows and results in a product that is reusable, recyclable and biodegradable.
As well as the backing from Scottish National Investment Bank, IndiNature also received grant funding of £803k from Zero Waste Scotland and £250k from South of Scotland Enterprise.
On the IndiNature website, Scott Simpson CEO said
"We couldn't be happier having the Scottish National Investment Bank back us. It feels great that we can move forward to create local Borders jobs and make insulation on scale in Scotland – insulation that's good for people's health and the planet. 

The demand for local, natural alternatives in construction is increasing. At IndiNature we love using crops from UK farmers – it's so critical the world moves faster toward what's known as the circular bio-economy by using plants in products, to reduce waste and naturally capture carbon. 

Our news coincides with the latest IPCC (Intergovernmental Panel on Climate Change) report this week which calls for urgent action. Amongst the fires and floods we're seeing globally, IndiNature aims to be a Scottish showcase of positive action." 
We recently spoke to Scott about IndiNature's story in the last issue of Clean Slate. You can read the blog here.
Congratulations to IndiNature – we're looking forward to seeing this zero carbon solution scale up over the next few years.
Inspired to study at CAT?
If you're inspired by Scott's story and would like to find out more about studying on a CAT postgraduate course then get in touch with Alis Rees, Graduate School Marketing Officer. Or if you'd like to read more CAT Stories about the inspiring work and solutions other graduates are working on then you can read their profiles here.
Related events
More events
Email sign up
Keep up to date with all the latest activities, events and online resources by signing up to our emails and following us on social media. And if you'd like to get involved and support our work, we'd love to welcome you as a CAT member.