Plan Your Visit
Plan Your Visit
CAT is fully equipped for a unique and inspiring group visit – with 24 acres of gardens, woodlands and displays and experts in a wide variety of sustainable solutions. Choose from a range of workshops, talks and tours, which we can tailor to suit your group.
We also have on-site accommodation and catering, free coach parking, and a dedicated events team to help manage your booking.
For more information, please visit our visitor Q&A or get in touch with our team via the enquiries form below.
Workshops, tours and talks
From wellbeing to sustainable building, renewable energy to woodland management, CAT offers a wide variety of practical workshops, tours and talks.
FACILITIES & EVENT SPACES
Situated in picturesque surroundings, the Centre for Alternative Technology has a broad array of facilities, and aims to provide a great experience to all our visitors, regardless of age, ability or background.
ACCOMMODATION
CAT's variety of accommodation options are ideal for group stays. The WISE building offers 24 bedrooms at a 4* quality grading. CAT's eco cabins are ideal for larger groups in dorm-style accommodation with a cosy log burner and a beautiful view.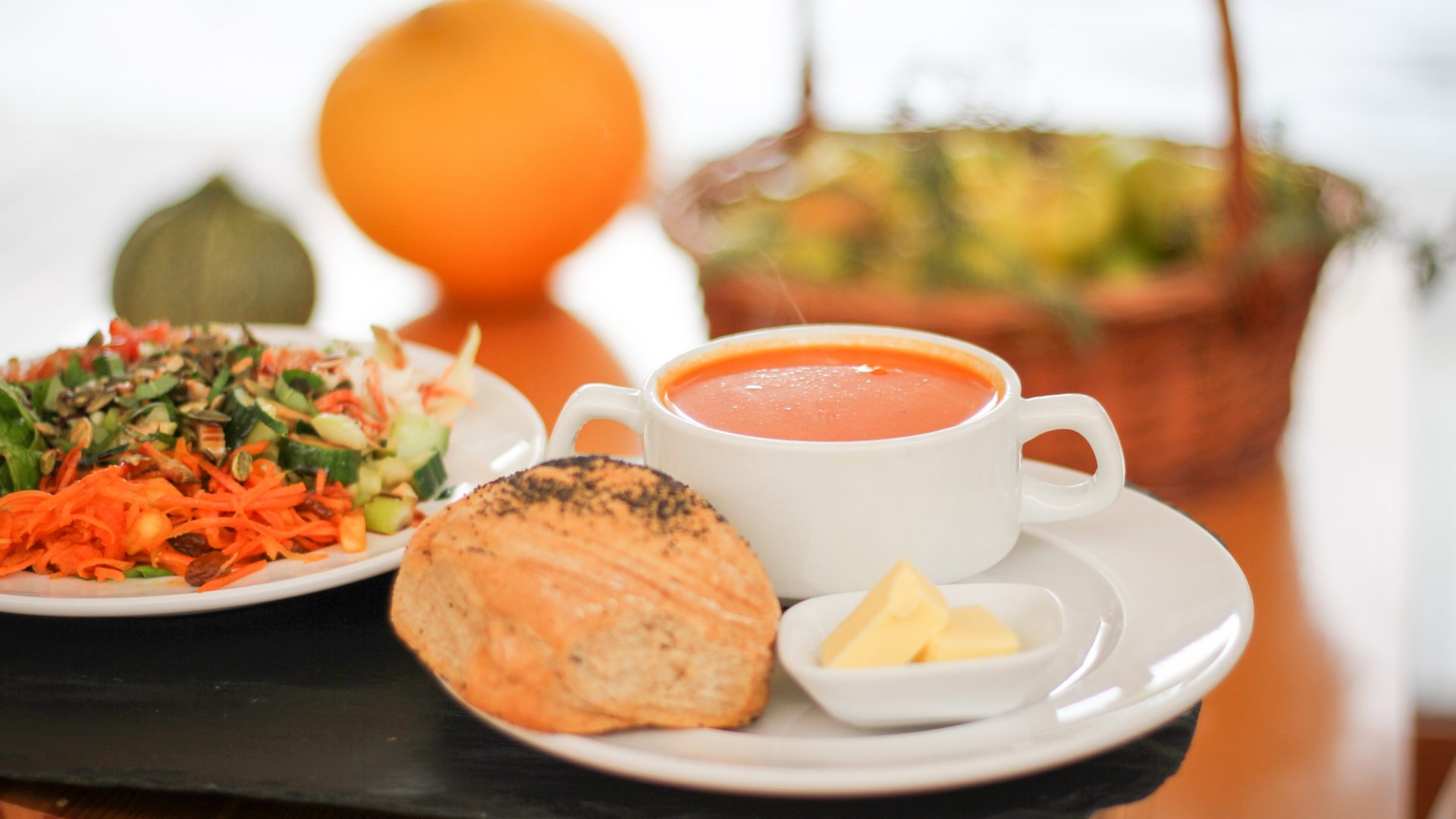 Vegetarian catering
Whether you're hosting a corporate event, school visit, group tour or wellbeing retreat, CAT's fully vegetarian café offers versatile catering options to suit any occasion.
Getting to CAT
CAT is situated three miles north of Machynlleth and is easily accessible by public transport. Machynlleth is on the Birmingham-to-Aberystwyth train line, which can be also accessed via Shrewsbury and Wolverhampton, and hourly buses from Machynlleth train station stop right outside the site.
General Information
Do I need to book in advance?
Yes. All group bookings to CAT must be booked in advance.
Are there educational programmes or guided tours available for groups?
Yes, we offer enjoyable and educational programmes of workshops, talks and guided tours tailored to a wide variety of groups including school, college and university groups, community groups, corporate groups, group travel and more.
Is the visitor centre available for groups to explore?
As part of a pre-booked groups package, groups are able to book to explore the visitor centre's displays, historically interesting buildings, beautiful organic gardens and sustainably managed woodland facilities. Talk to your groups coordinator to make arrangements.
Is there a maximum group size?
This is very much dependent on your group type, when you are coming and the type of educational programme that you are looking for. Please make an enquiry with our groups team and find out more.
How do I book a group visit?
What facilities are available for groups?
CAT has everything you would expect from a conference centre and visitor centre. We have ample parking, classrooms and a lecture hall with built-in AV, on-site accommodation, on-site catering facilities (both catered and self-catering), free Wi-Fi, a bar, cloak rooms, reception space and more. Please make an enquiry and our groups team will be able to help ensure you have what you need for your visit.
Is parking available for coaches?
Yes we have plenty of free coach parking space. Please just let us know on your requirements before coming so that we can ensure there is plenty of space.
What is your cancellation policy for group bookings?
Our cancellation policy varies, and it depends on factors such as the size of the group and the notice provided. Please refer to our group booking terms and conditions or contact our reservations team for more information.
What kind of catering options are available for groups?
CAT's well-loved and fully vegetarian café can fully cater for your groups needs. You'll find delicious, cooked breakfasts, hot and cold lunches with produce from the gardens and a hearty selection of evening meals along with hot drinks, cake and more. All food must be pre-booked so please make an enquiry.
Are you able to cater for dietary requirements?
Our café is entirely vegetarian and offers a variety of vegan options as standard. Our professional team are very experienced in catering for all manner of dietary requirements.
Please inform your groups coordinator of any dietary requirements within your group at least two weeks prior to your booking date.
Accessibility and Getting to CAT
Does the site have disabled access?
Disabled parking spaces are available at the top of the drive that starts next to the bottom station building and can be reserved with your groups coordinator. Otherwise, access to the visitor centre is via the woodland walk or drive, both of which are quite steep.
To reach the car park, drive up the lane to the left of the main ticket office. Please take extra care as that lane is also used as a walking entrance by visitors.
The displays are located throughout a 7-acre open-air site. Most of the pathways around site are made up of compacted aggregates which are mostly level; however wheelchair users may require assistance in using these, particularly during periods of inclement weather.
All the buildings have ramped or level access with doors, entrances and corridors wide enough for a wheelchair. There are wheelchair accessible toilets at the bottom car park reception building and at the top of the cliff railway.
We have electric mobility scooters and a wheelchair, either of which can be hired free of charge by emailing visit@cat.org.uk well in advance of your visit.
Are your accommodation facilities accessible?
CAT's WISE building has two bedrooms that are fully equipped for visitors with additional mobility needs. Please enquire with your groups coordinator if you have any specific requirements that you would like to discuss. CAT's eco-cabins are also fully accessible.
Do you have an electric car charge point?
CAT has an electric vehicle public charging station which is FREE for visitors to use.
Pre-booking is essential to avoid disappointment. Please contact your groups coordinator to reserve a time-slot.
The charging point is a 32 amp Type 2 (or Mennekes) socket allowing for fast charging, typically up to 4 hours. Please bring your own charging cables.
Is there on-site parking?
We have plenty of free parking spaces for both cars and coaches.
Do you have bike locking facilities
Yes, there are bike sheds with locking facilities in the bottom car park.