CAT to host Autumnwatch 2020
CAT to host Autumnwatch 2020
October 5, 2020
Home »

CAT to host Autumnwatch 2020
We are excited to announce that CAT has been chosen as one of the hosts of this year's BBC Autumnwatch. Iolo Williams will join us for two weeks to bring the best of Mid Wales wildlife to living rooms right across the UK.
CAT will be one of four live bases for the series, with Iolo presenting alongside Chris Packham, Michaela Strachan and Gillian Burke from around the country.
Our beautiful site in the foothills of Snowdonia is part of the UNESCO Dyfi Biosphere Reserve, and is home to a rich variety of habitats and wildlife, allowing people to connect with nature whilst learning about solutions to the climate and biodiversity emergency.

Peter Tyldesley, Centre for Alternative Technology (CAT) CEO said:
"We are very excited to have been invited to host the Wales branch of this year's Autumnwatch.
"The woodlands, gardens, ponds and meadows of CAT are home to a rich variety of species, from dormice to dippers and from lesser horseshoe bats to greater spotted woodpeckers.
"At CAT we are focused on positive solutions to the climate and biodiversity crisis; solutions that can help both people and wildlife to thrive. Our centre offers the opportunity for visitors and students to immerse themselves in beautiful natural surroundings whilst learning about the ways that we can work together to tackle these big environmental challenges.
"We're really looking forward to sharing some of the sights and sounds of CAT and the Dyfi Valley with Iolo and all of the Autumnwatch viewers in a few weeks' time."
This year many of us have appreciated the natural world more than ever before, and in May and June the BBC Springwatch crew helped us take a closer look at some of the wildlife on our doorsteps. Broadcasting from a range of locations, with smaller teams to allow social distancing, they highlighted how nature has provided moments of joy and solace during challenging times.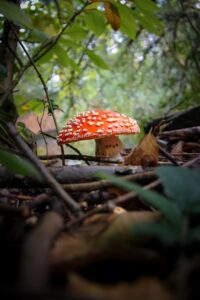 In October they return to our screens to share the best of autumn. Whilst Iolo broadcasts live from CAT, Michaela Strachan will be in Tentsmuir Forest in Fife, Gillian Burke in the RSPB Old Moor in South Yorkshire, and Chris Packham close to his home in the New Forest.
As always, nature will be the real star of the show, with the wildlife of Mid Wales taking centre stage.
The area surrounding CAT is home to lesser horseshoe bats, dormice, pied flycatchers, wood warblers, yellowhammers, red kites, buzzards, otters, polecats, pine martens and peregrine falcons, as well as rare species of mushrooms and a wide diversity of mosses, ferns and trees.
Follow CAT for all the latest as we prepare to host Autumnwatch – we'll be sharing all the richness and solutions that nature has to offer.