Short Course Stories: CAT course inspires a world's first
In 2016 Chuck Maffett attended a 'Building with Rammed Earth' course at CAT, since then he has gone on to set up his own business, eco earth walz making prefabricated earth walls. We asked him a few questions and learned what he's been up to.
Since attending the course ….
I started up a new business to make prefabricated rammed earth walls made by my newly invented automated technology (patent-pending). These prefabricated earth walls can be made to any size up to 3 meters high, 2 meters long 60 cm wide, and can be with or without tongue and groove.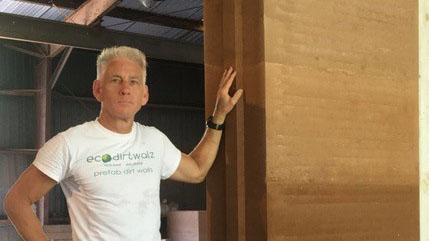 Click here to find out more about CAT's green building courses
How did the course help?
The course provided all the necessary concepts and fundamentals to getting started with rammed earth. While there is a more scientific side to rammed earth, it was good to get a basic understanding and both figuratively and literally, get our hands dirty (building a rammed earth wall). As the course proved, rammed earth is a very labour-intensive process, hence my invention of automated technology to speed up the process, which in turn will make earth building more efficient and affordable.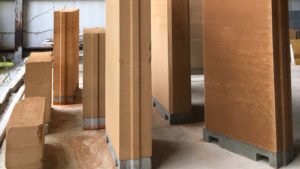 Future plans?
I have just completed building what I believe is the world's first prefab earth tiny house/shed to demonstrate the concept of building with prefab earth walls. I now hope to seek capital funding/investment to further develop the business and begin production. I think now, more than ever, we should be building totally eco-friendly structures to reduce carbon emissions associated with our built environment and save our precious planet.
Anything else?
Rammed earth is probably the most eco-friendly building material, and I hope my invention and prefab earth walls can revolutionise our built environment from construction to operation.
Click here to learn more about Chuck's company eco earth walz
If you have attended a short course, we want to hear from you!
Fill out our short course stories form for a chance to be featured on our blog and help inspire others.
Check out our upcoming short courses
Find out more about building with earth