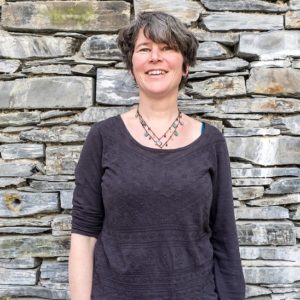 Louise Halestrap
Senior Lecturer
Graduating from Aberystwyth University with a BSc in Environmental Biology, Louise has a passion for researching topics such as biodegradation and eco-refurbishment. She now lectures in the graduate school and supports students who are using distance learning.
Louise spent her early career studying almost everything decomposing: dead fish, abattoir waste, antibiotics produced in eggs, headache pills, nappies, TNT and pesticides in the soil, sewage and household waste – to name but a few!
She has worked in university, private and charity sectors on large scale composting and organics research and development. During her first stint at CAT she led the consultancy services on the composting and sanitation research programmes. This included: live testing of home composting as a waste minimisation strategy; researching social factors involving householder participation in composting; running specialist courses on composting and sewage solutions; and giving lectures to a wide range of students.
Since returning to CAT in 2008, Louise has focused on adaptation and practical building with sustainable materials and eco retrofit, also building with nature connection in mind. She also has special interest in distance and blended learning provision, as well as providing maximum inclusion for all students.
Qualifications
BSc (hons) Environmental Biology, UW Aberystwyth
MPhil Microbiology of an industrial composting system, UW Aberystwyth
Teaching Activities
Lectures on Sustainable Food and Natural Resources
Tutor
Research Interests
Biodegradation, waste and recycling systems, eco-refurbishment
Publications
Harper, P and Halestrap, L (2006) Lifting the Lid, an ecological approach to toilet systems CAT Publications
Roll-Pickering, A and Halestrap, L (2003) Remote toilet challenges The Scottish Mountaineer No.19
Thornton J, Halestrap L and Harper P (2003) Twenty seven years of in-situ compost toilet research in the UK Presented at the 2nd compost toilet symposium- Tampare Finland
Harper, P and Halestrap, L (1999) Harvesting rainwater Clean Slate Journal of Sustainable Living No.31
Halestrap, L (1998) The wonderful world of reedbeds Clean Slate Journal of Sustainable Living No.29
Halestrap, L (1998) Constructed reedbeds tipsheet CAT Publications
Halestrap, L (1995) A new composting system is described, a paper presented at the 7th International Symposium for Microbial ecology- Santos, Brazil
MSc Course Details