Living together: the environmental benefits of co-housing and communal living
From saving energy to reducing waste packaging, sharing living space has the potential to reduce our environmental impact. CAT Information Officer Mim Davies explores the possibilities.

Living more communally can have great social and personal benefits.
Housing co-operatives, for example, give tenants full and equal control over their housing situation. They encourage co-operation between tenants and between co-ops, which can rebuild a sense of community.
Co-housing projects are made up of individual households that intentionally share communal spaces and facilities with each other. Research has shown that their focus on mutual support between residents can lead to better well-being.
But intentionally living more communally can have environmental benefits, too.
Team building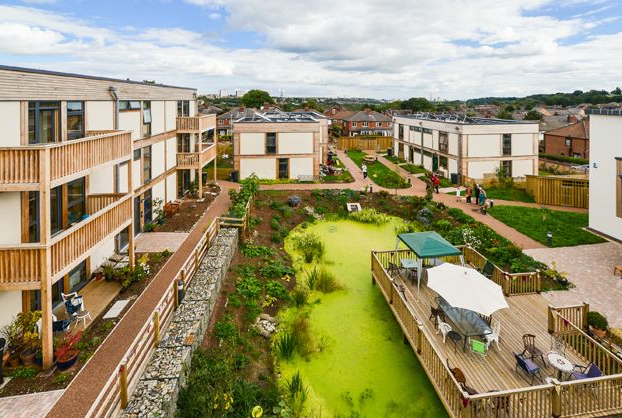 Co-housing projects can make eco-building cheaper, as materials can be bought in bulk, and the cost of land can be shared. The Low Impact Living Affordable Community built twenty low impact houses in Leeds using straw and timber.
Community labour is also a resource that can be pooled. The residents of the Diggers, a co-housing project in Brighton, built their own timber frame houses and helped their neighbours to complete theirs. They gained "sweat equality", a financial stake in their houses that reflected the work that they put into the construction.
Interested in learning how to build with straw or timber? Check out our Timber Frame Self Build and Building with Straw Bales short courses.
Saving energy and resources
Residents of co-housing projects often share domestic appliances, tools, and cars. This means that less energy and other resources are used, and maintenance work and costs can be divided among the group.
Energy generation can also be done better at a community scale. Lancaster Co-housing's 35 households are heated by a single large woodchip boiler. District heating systems like this one can be more energy efficient than having lots of individual smaller boilers.
Cooking up a storm
Machynlleth Housing Co-op gets regular bulk orders from a wholefood wholesaler and its members cook and eat communally. Buying in bulk cuts down on packaging, and makes choosing organic and ethical food more affordable.
Trelay Farm is a co-housing project in Cornwall that has a large communal vegetable patch and fruit growing area. Sharing out the responsibility and labour of food growing means that more fruit and veg can be grown successfully, reducing the energy and transport impact of what a community eats.
Did you know we offer an MSc in Sustainable Food and Natural Resources?
What if I don't live in a housing co-op or a co-housing project?
You don't have to live in a housing co-op or co-housing project to access the benefits of living more communally. Sharing resources, land or food orders can also be done between friends, colleagues or neighbours, for example. Community energy projects and car share schemes are some other great ways for you and the people in your life to work together to lower your environmental impact.
---
Mim Davies is one of CAT's Information Officers and a member of Machynlleth Housing Co-op. She will be co-running a workshop on housing co-ops and co-housing at CAT's Members' Conference in October.