Designing the future
Designing the future
November 11, 2020
Home »

Designing the future
CAT's architects-in-training learn how to reimagine the world in a way that puts the wellbeing of people and planet at the core of their work. John Carter, Programme Leader and Gwyn Stacey, newly appointed Senior Lecturer, share a selection of student projects that illustrate how architecture can support a healthier, happier future for all.
Originally published in our members' magazine Clean Slate – Autumn 2020
CAT's Masters in Architecture strapline is 'doing architecture differently', but in what ways does it do architecture differently? Well, at the core of its teaching is the principle that architecture must be sustainable – in its construction (and deconstruction), in its use, and in its reasons for being. Think net-zero carbon architecture that has been designed to be healthy and uplifting, and which addresses climate change and biodiversity loss. This stands in stark contrast to the predominant carbon-emitting architecture of the modern era.
These essential qualities are the foundation stones of the Final Design Projects that our current students have just completed – the culmination of their MArch in Sustainable Architecture at CAT.
Each student selects their own project and then develops it, via a detailed design proposal and a technical report, over the final year of the two-year course. This is a challenging piece of work, especially given that during the final four months tuition has been via distance learning. As usual, our students have risen to this challenge.
In all of these projects you will, we hope, see CAT's mission writ large. We are left wondering why many other Architecture courses are not engaging in similar exploration. After all, if architecture is to be relevant it has to be sustainable, both functionally and materially.
Aidan Hogan – reimagining the Derby Hippodrome as a community performing arts centre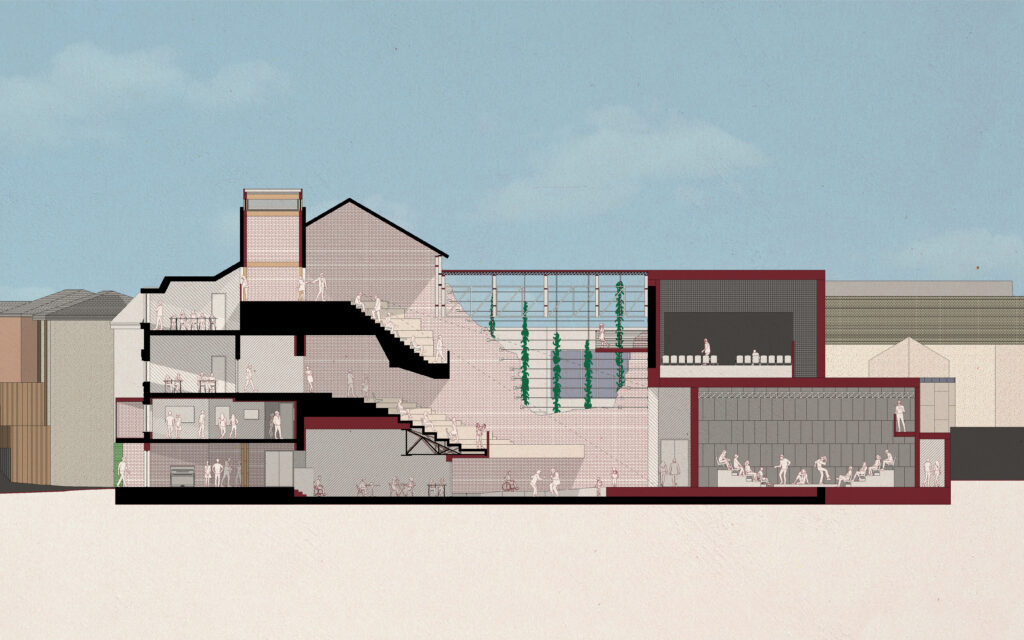 As a resident of Derby, Aidan walks past the semi-derelict Hippodrome regularly. He says that "the last thing that Derby needs is another city centre multistorey car park" (the current developer-led proposal), so he set about reimagining the Hippodrome and surrounding buildings as a community-led regeneration project. The result is a creative re-use of the carbon embodied in the fabric of the building, the preservation of an important part of the cultural history of Derby, and the provision of community facilities for many of the performing arts, including music, dance, theatre and film, plus a local library. How apposite such a project is in these COVID-19 times.
Flora Macrae – Y Môr Glas Blasus

In her Final Design Project, Flora has chosen to reimagine Porthgain on the west coast of Wales, as a sustainable community based on food from the sea. She takes several redundant buildings and structures and re-uses them to create seafood processing facilities, sustainable accommodation for tourists and a food and brewing hub. Her starting point for all of this is to ask the question "What is available locally?" In doing so, Flora aims to transform a village dominated by second homes into a thriving, self-sustaining community that is lived in all year round and respects and nurtures the sea and the life therein.
Roz Wells – The Wind-farmers' Guild, Great Yarmouth, Norfolk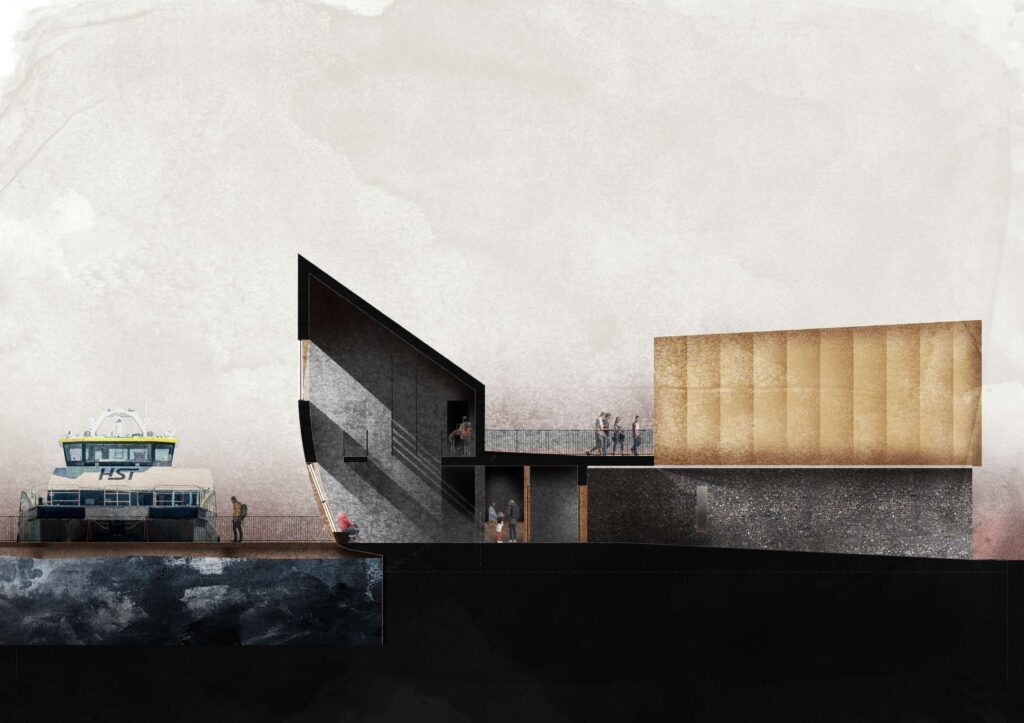 Roz was drawn to Great Yarmouth through her grandmother, who lives there. She quickly discovered how Great Yarmouth has become a base (or some would say staging post) for those who maintain the wind turbines out in the North Sea. In her Final Design Project, Roz set out to bring townsfolk and wind-farmers and their families together. Holiday-style accommodation, to allow families to spend time with their loved ones during onshore periods, is combined with: wind turbine technology training an educational facilities; accommodation for the elderly of Great Yarmouth; a University of the Third Age; and a nursery and library/museum. The latter is housed in a restored ice-house, the thatched roof of which is taken as the inspiration for an exploration of the potential of Norfolk reed in a contemporary building.
Sophie Woodhatch – The Phoenix Makers of Lewes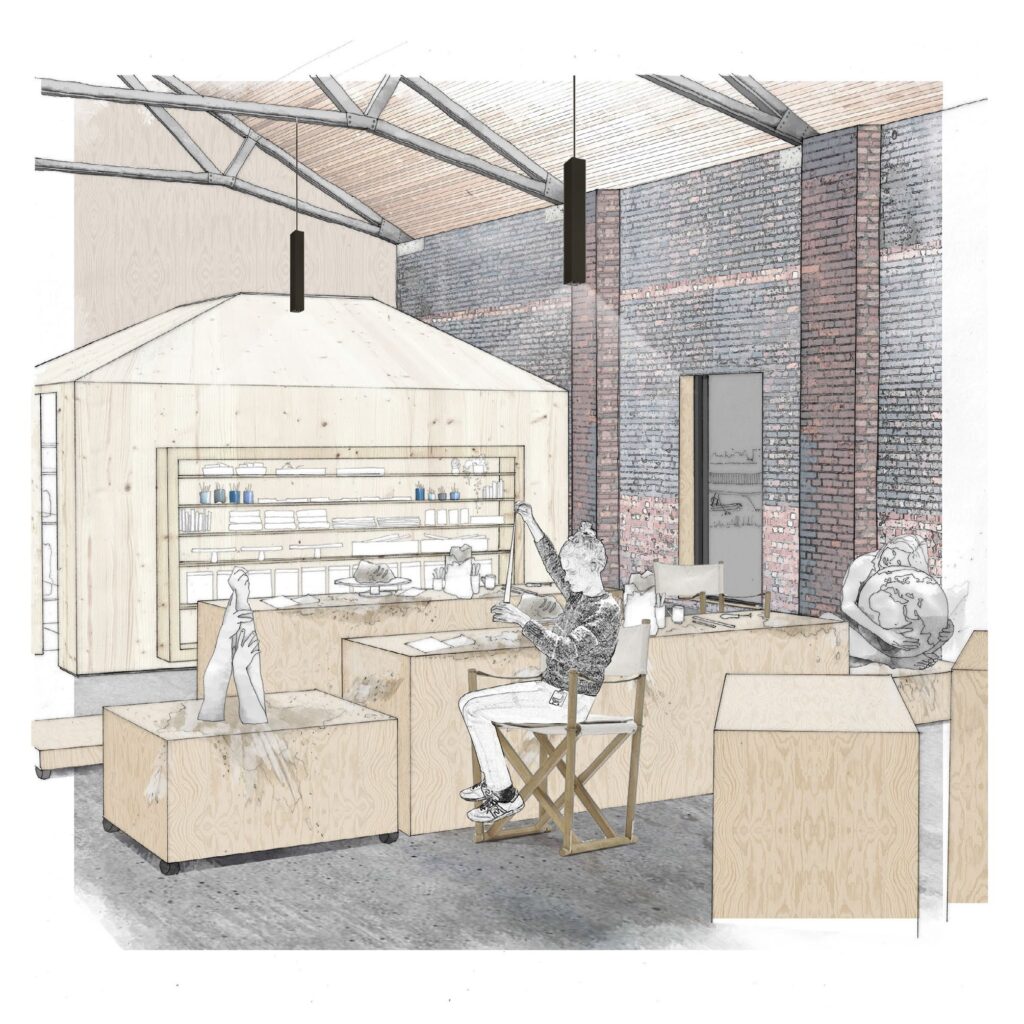 In this project, Sophie explores the importance of making and the celebration of crafts. Her starting point is the re-use of several old industrial buildings, one of which originally housed an ironworks and all of which currently provide low-cost facilities for local makers. In stark contrast to the current developer-led proposal – a new–build residential and commercial development of the site (yet more expensive houses, plus hops and coffee house) – Sophie's proposal is for a sensitive re-use of the existing buildings with several new additions, to create better, more sustainable workspaces for existing and new makers.
Isis Reid – Elephant and Castle multi-cultural centre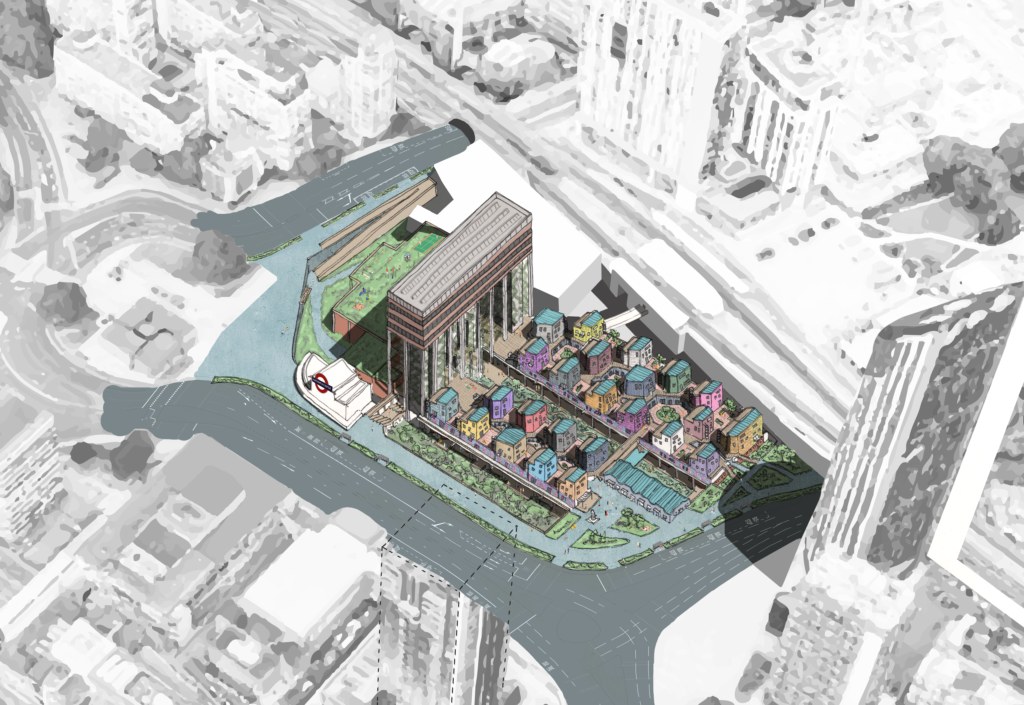 What to do with a 1960's concrete behemoth? A developer's current proposal involves a densification of the site to create offices and luxury residential accommodation, thereby forcing local traders and local residents further out from their Elephant and Castle home base. In contrast, Isis' project looks at how it could be reinvented as a multi-cultural centre, a much-loved market and affordable housing for local people. Isis has recognised the energy locked up in the existing concrete structure and has endeavoured to re-use and reinvent it as much as possible, thereby saving embodied energy and fostering retention of the local community.
Will Webb – Newport crematorium and arboretum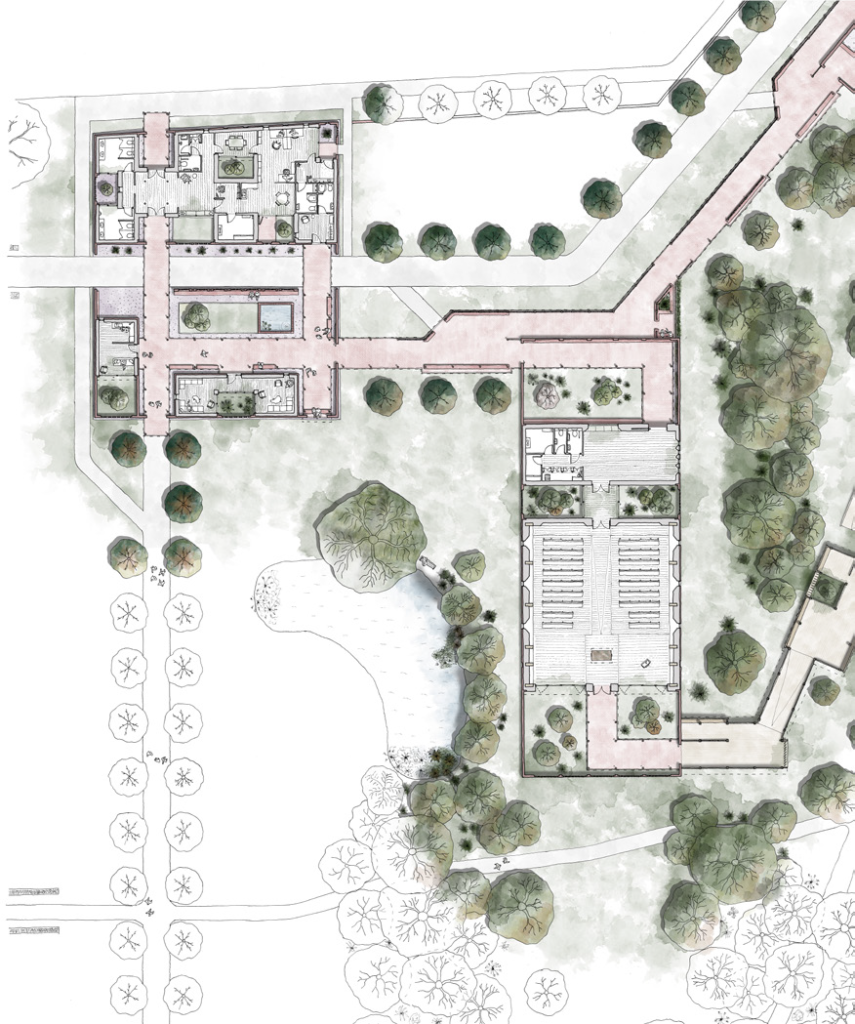 Taking a near-to-city-centre site that is currently redundant following the demolition of a Sainsbury supermarket (to build a bigger one on the outskirts of the city), in this project Newport-born Will is exploring how we might bring the celebration of death in general, and crematoria in particular, in from the finds of conurbations. He demonstrates how celebrants might use public transport into the city centre and then enjoy a riverside walk of memory and contemplation before and after services. Will explores how we might be more involved in death as an aid to grieving. All this, whilst working with sustainable materials and technology, in the spirit of MArch at CAT.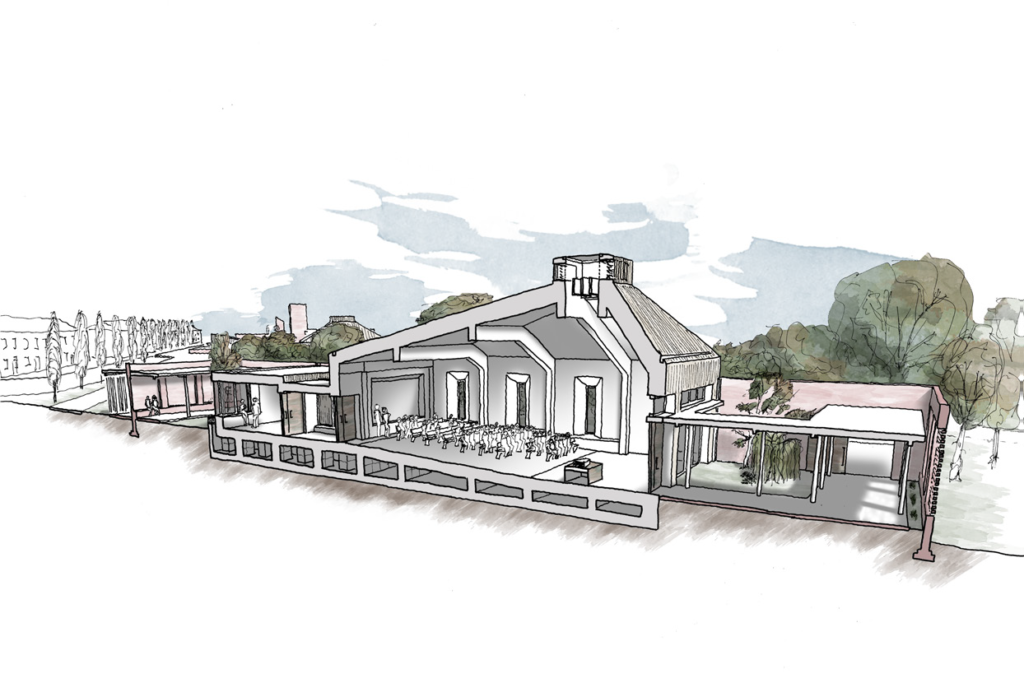 Interested in our Masters in Sustainable Architecture course?
Get in touch to find out more about studying on CAT's Masters in Sustainable Architecture Part 2 course or view more student projects created by graduates of the course over the past few years.
Related Pages
Related events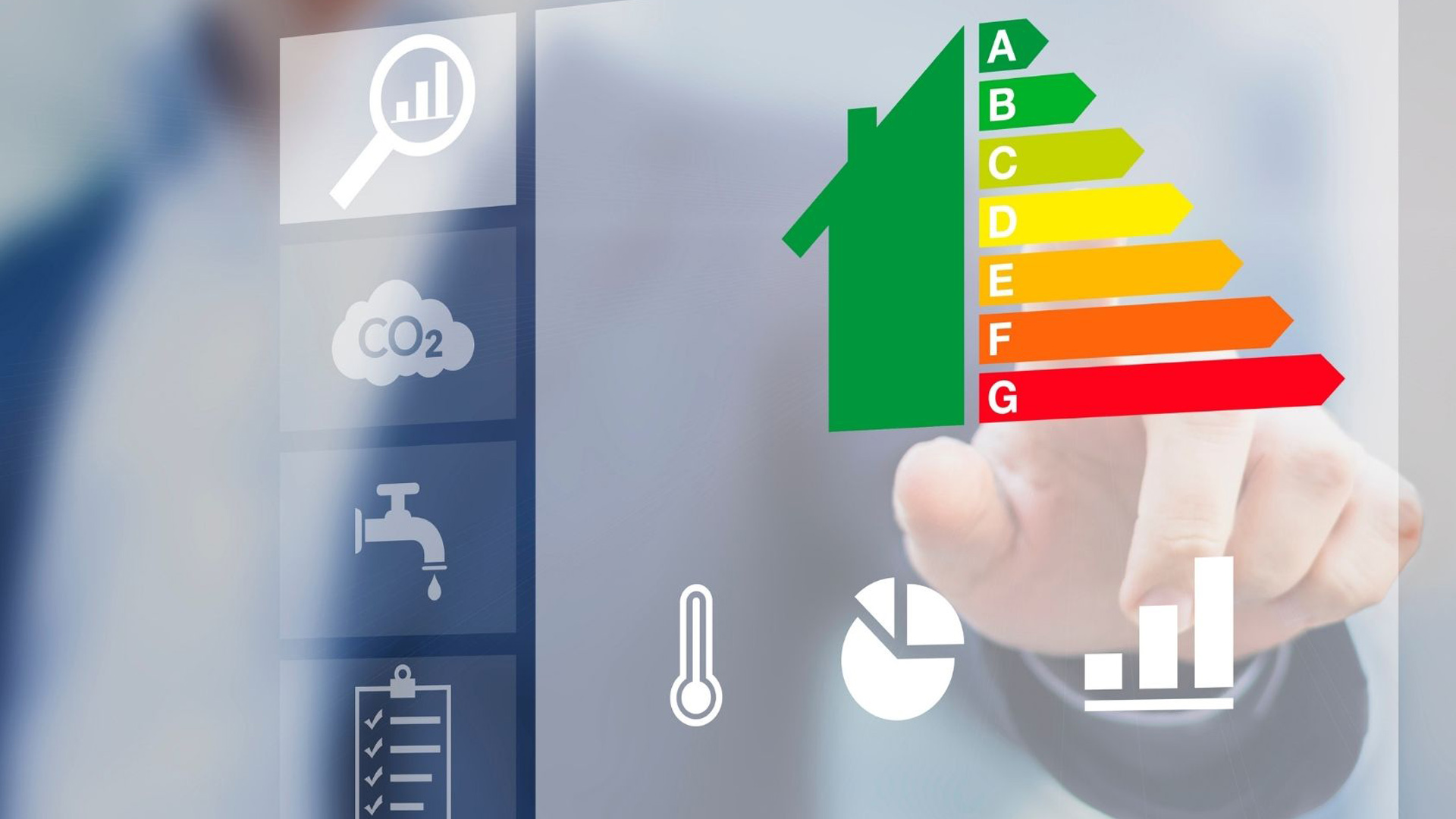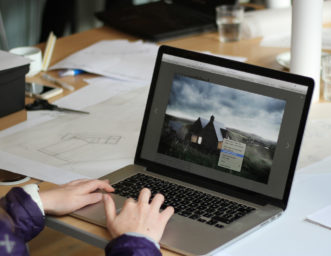 More events
Graduate School of the Environment
ACT NOW FOR A SUSTAINABLE FUTURE
Learn more about our exciting postgraduate courses and sign up for our emails to stay up-to-date on all the latest.