CAT shares Zero Carbon Britain with policymakers and political parties
Cross-party consensus on ambitious targets, and a clear roadmap for effective climate action is urgently needed. That's the message Paul Allen has been taking to politicians from across the political spectrum, most recently at a meeting with Energy Minister, Claire Perry.
As we have witnessed in the past, changes in government can cause massive upheaval in our collective approach to the climate challenge. To help build strong cross-party consensus, CAT has been sharing our Zero Carbon Britain research with key thinkers and policymakers.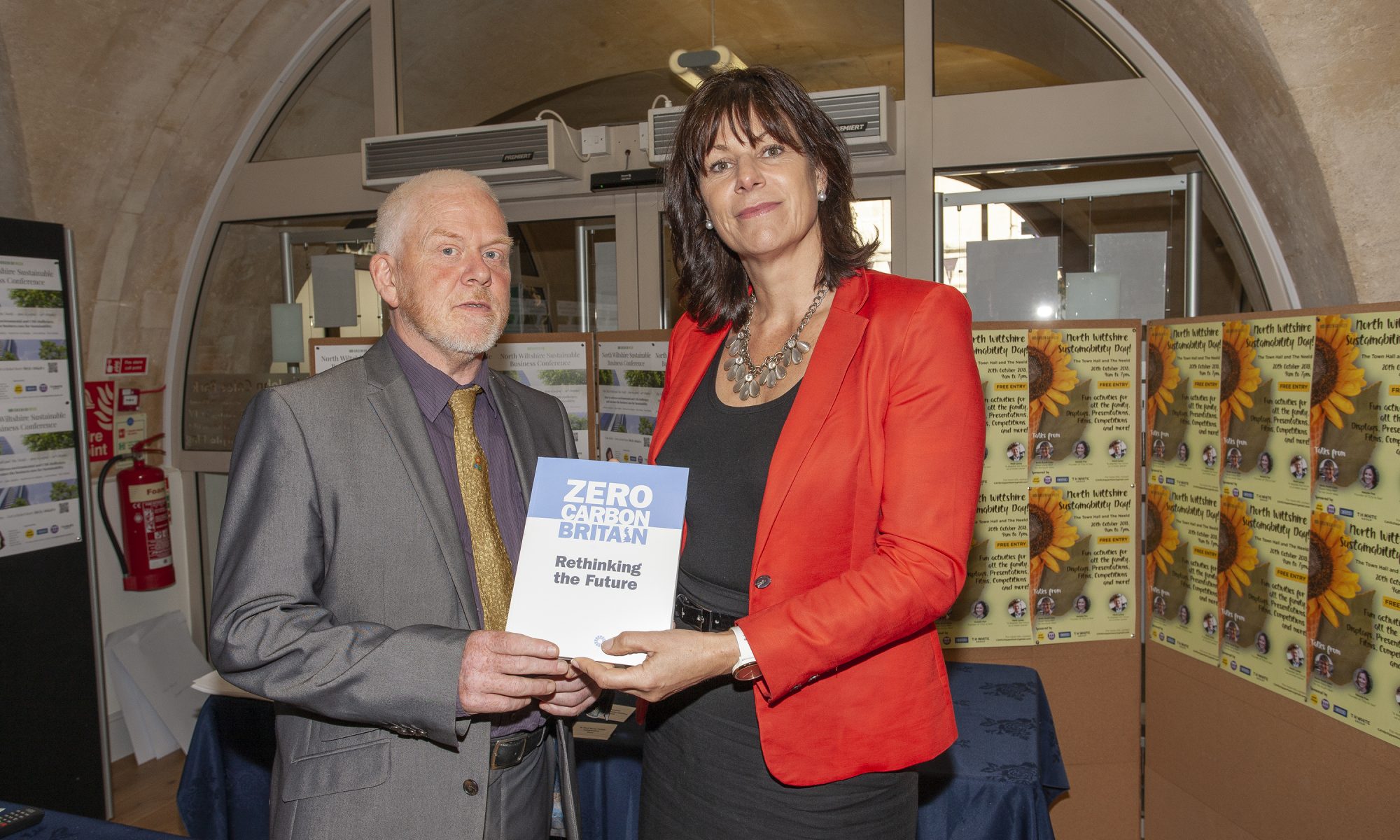 Since the release of the IPCC 1.5C report, there has been a growing political consensus that to avoid really dangerous climate change we need to reach net-zero emissions as soon as possible before 2050. But between now and then, there will be eight or nine general elections, and it has become crystal clear that shifts in government can cause massive shifts in our approach to rising to the challenge.
A stable plan is urgently needed.
Cross-party consensus on climate action
Building a cross-party consensus on a delivery plan requires giving decision-makers access to scenarios that show how existing technology can be used to provide a reliable energy supply for the UK with 100% renewable energy sources, grow the vast majority of the food needed for a healthy, low carbon diet, and to manage the land to capture carbon, nurture biodiversity and increase the health and resilience of UK ecosystems.
Driven by an inclusive process, such agreement on action would offer a long-term stable framework for municipal or business investment, training and skills, technology research and development, and job creation. It would also, of course, increase confidence from wider society that no one will use this urgent challenge as a political football.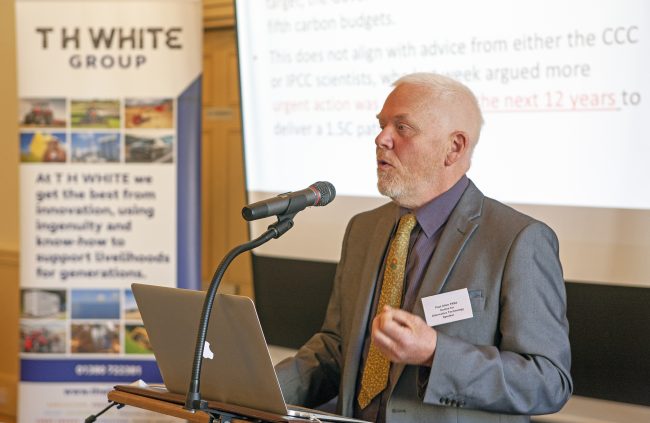 Pushing for net zero
So, to help lay the foundations for cross-party consensus, CAT has been sharing our Zero Carbon Britain (ZCB) research with key thinkers and policymakers.
As the UK Committee on Climate Change is the body that has now been asked to scope out delivering net-zero for Britain, we have sent copies of ZCB to the committee's chair, Lord Deben – the UK's longest-serving Secretary of State for the Environment (1993 to 1997), to Baroness Brown of Cambridge, Chair of the Adaptation Sub-Committee (ASC) and to Professor Jim Skea, who is also Co-Chair of Working Group III (Mitigation) of the Intergovernmental Panel on Climate Change (IPCC).
Back in 2007, following the launch of our initial report in Parliament, our local MP Lembit Opik shared it with the Liberal Democrats, which within six weeks led to the launch of their policy 'Zero Carbon Britain – Taking a Global Lead'. CAT has been sharing our work with them on a regular basis, as we have with the other political parties.
However, in the wake of the recent IPCC 1.5C report, both the Labour Party and the Conservative Party have now adopted zero carbon as their end-goal, so now we have cross-party consensus on the target – which in itself is a great step forward.
Talking to policymakers
To help build a platform for a cross-party action plan, we have sent copies of our work to relevant Labour policymakers, including Rebecca Long Bailey MP Shadow Secretary of State for Business, Energy and Industrial Strategy, and Dr Alan Whitehead MP Shadow Minister (Department for Business, Energy and Industrial Strategy).
Last weekend at the launch event for a Zero Carbon West Berkshire I gave a briefing to the local Conservative MP Rt Hon Richard Benyon, and have sent him copies of our research together with an offer for a detailed briefing.Zero Carbon Britain for the Energy Minister
The following Saturday, at the North Wiltshire Sustainable Business Conference, I briefed Rt. Hon. Claire Perry MP, Minister of State for Energy and Clean Growth, and presented her with a copy of our energy model, which she promised to read.
In her role as Britain's climate change minister, Claire Perry announced the Government's intention to explore a net-zero target for the UK back in the spring. Since then, 132 members of parliament and 51 peers from all major parties have called on the Prime Minister to commit to net-zero by 2050.
This degree of consensus is reminiscent of the overwhelming cross-party support for the Climate Change Act, passed 10 years ago. And, just like 10 years ago, the opposition (now Labour, then the Conservatives) is pushing the Government to take a more progressive stance.
If the target is set, the UK would join Norway and Sweden, which have legislated net-zero or near-net-zero targets. New Zealand, Iceland and California are among growing list that have announced, but not yet enacted, net-zero targets.
Climate justice
The UK and other long-industrialised nations grew wealthy on the back of burning fossil fuels; climate justice demands that wealthier nations take ambitious action now, and provide both financial and technical support for less developed countries to help them with mitigation and adaptation measures. The sooner this is achieved, the better our collective chances of avoiding the really serious climate impacts.
That is why CAT is calling for the launch of an inclusive process to build a cross-party consensus on an ambitious climate action plan to allow a consistent, coherent approach regardless of who is in and out of government over the next 20 years.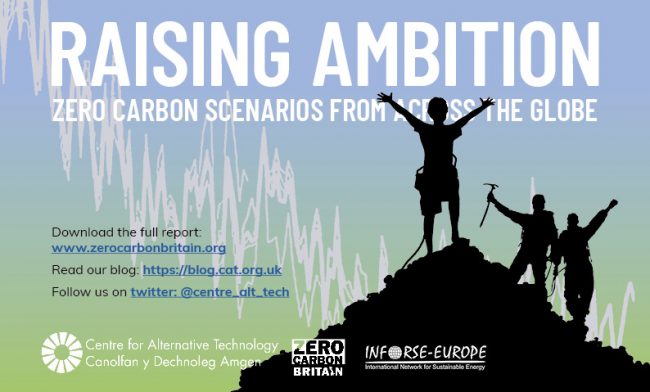 Raising Ambition
To add weight to the Zero Carbon Britain findings, we are also offing a range of international scenarios. Launched in September 2018 our new report, Raising Ambition: Zero Carbon Scenarios from Across the Globe, brings together an international range of scenarios exploring climate-stable futures at global, regional, national and sub-national scales.
You can download all our Zero Carbon Britain research reports from http://www.zerocarbonbritain.org
Would you like to support CAT's work and keep in touch with our latest news and research? Please consider becoming a member.